EXPERIENCE • EXCELLENCE • VALUE
When your organization releases a new product, starts an initiative, or wants to make a statement, there's a lot of work to do. Your sales team needs presentations, briefs, guides, data sheets, battle cards, training videos, and other sales tools. Your customers want brochures, demos, tours, and highlight videos.
With our first-class service, we'll make your job easier, while delivering results that consistently exceed expectations and wow your customers. Let's talk about how we can meet your writing, design, and video needs..
Our specialties include marketing copywriting, technical writing, and editing/quality assurance. We've developed thousands of sales tools, including product guides, brochures, presentations, flyers, solution briefs, white papers, battle cards, competitive comparisons, play books, FAQs, and more.
There's no design job too big for our talented team. We excel at creating visual identities, marketing materials, posters, presentations, infographics, technical drawings, process graphics, and even traditional cell animation.
Take a look at our own TMS brochure here.
We produce all types of videos in a variety of styles, including corporate profiles, in-depth product training, high-level product or solution overviews, internal awareness campaigns, employee training, advertising, point-of-purchase, and more.
SATISFIED CUSTOMERS
We're proud of the reputation we've built and our long-term relationships.
Here's what our clients say keeps them coming back…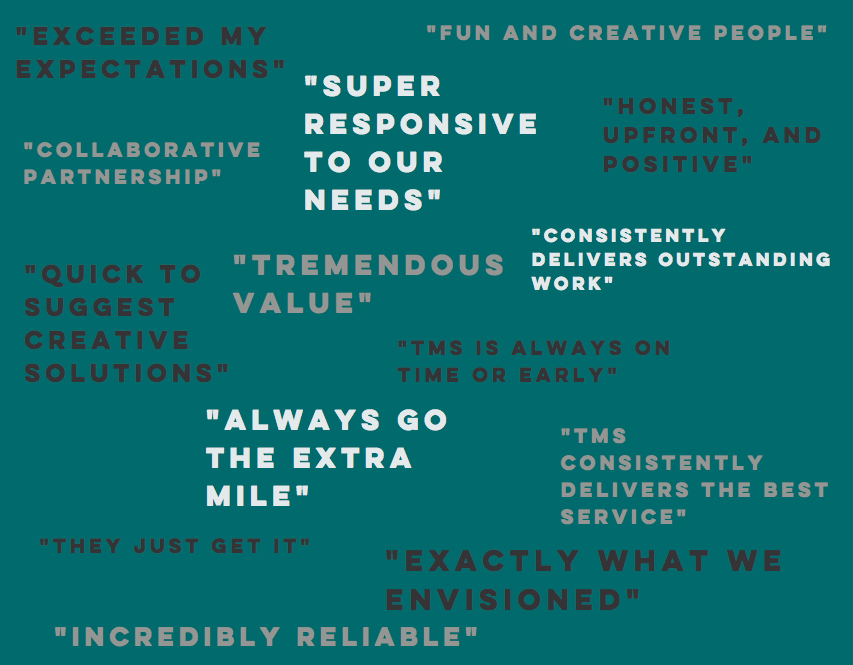 20+ professionals, including project managers, writers, graphic designers, videographers, and illustrators
ABOUT TMS INTERACTIVE
Founded in 1987, located in Boise, Idaho
For successful, fast-growing organizations, it can be a struggle to develop communications tools quickly, stay on brand, and effectively meet your objectives. Sometimes you don't have enough resources in-house to keep up with demand. This is where we can help.
TMS Interactive has a long history of helping organizations of all types and sizes address a broad range of communications needs—employee training or customer education material, marketing collateral, competitive sales tools, technical guides, and much more—delivered in a variety of formats, including print, online, interactive, and video. We also have translation and translation management services available.
Our experienced team works closely with yours, but we won't bog you down. Instead, we'll make your job easier, help you meet your communications objectives, and consistently impress you with service and results that go above and beyond.
We've received a variety of national and international awards for creative excellence in communications solutions over the years. While it's rewarding to be recognized by our peers, the fact that our clients keep coming back is the best award we could receive.
Give Us A Call Today
208.377.9312